Hey streamers! We know you are busy and likely getting ready to fire up your next stream. That's why we created this straightforward guide to help you setup Dare Drop and get the most out of it for your upcoming stream.
This guide will cover every step and it should take you about 5 minutes to have everything setup. If you've already completed parts then you can move on and you'll be done in even less time.
1) Sign up! (<30 seconds)
Start by signing up, of course! You can do that at https://daredrop.com/sign-up

You'll get an email to verify your account. If for whatever reason that doesn't work check your spam folder, or contact us at support@daredrop.com
2) Authenticate your Twitch (<30 seconds)
Click the "Get Started" button in the upper right after you log in to get connected.

3) Customize Your Profile (1 minute)
A new selection will appear after you authenticate your Twitch called My Profile. Click on that and then click on "Customize your profile" where you can upload a profile photo, bio, and links to your socials.
4) OBS Integration (<1 minute)
Add audio alerts and messages which you can configure in your OBS.

To configure alerts, go to your account settings, click configure alerts, and copy the URL we provide as a browser source in your OBS. You can also upload custom audio sounds to use on your stream!
You can also add a Dare Display in the same way. This cycles through your active dares and is an easy way to remind your viewers to get involved!

Need help with this? We have a simple guide which should help.
5) Add Twitch extensions (1 minute)
We offer an extension to enhance your Dare Drop experience for fans directly from Twitch.
The first, is a panel extension which does a number of great things for your fans!
Display active Dares
Quickly create new Dares
Donate to Dares with Twitch Bits
Configurable chatbot that reminds viewers to create new Dares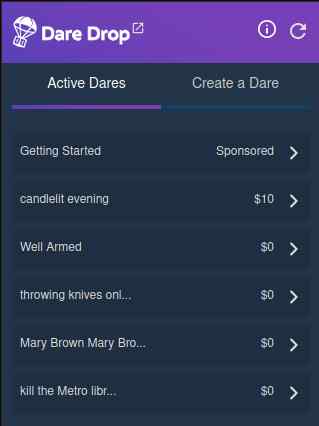 6) Add Your Payout Email (<30 seconds)
We payout via Paypal (unless a Dare was made with Twitch bits). Link your Paypal email by going back to your account settings and then clicking "Payout Method". Simple add your Paypal email and you will be good to go!
You Completed Setup. Now What?
Now that you have setup Dare Drop, there are a few things you can do to get the most engagement from your audience! If you have an extra 5 minute, we strongly recommend you utilize all our features before starting up your stream!
Crowdfund Dares
If you hope you use Dare Drop to earn more from viewers and fans we strongly recommend you utilize our crowdfunding feature. Before you start your next steam do this:

1. Create yourself a Dare that is something you can build hype for
2. Accept the Dare and "set a goal" for the amount your want to raise
3. Get your viewers hyped and promote the Dare to hit your goal!
Challenge Other Streamers
A single Dare can have up to 10 streamers on it. This is a great way to collaborate with other streamers and build on each others audiences. Reach out to some streamers you want to collaborate and make them a Dare that you can split the winnings on. Challenge them to a 1v1, or team up for a co-op campaign.
Add a chat command !dares
The best way to remind your fans to make you awesome Dares is to add a chat command! Most of our streamers use commands like !dares or !dare to keep it short.
Check Our FAQ
Have questions on payment? Who verifies your Dares? How to set a goal? Check out our FAQ with all the answers! Of course, if you need more assistance we are happy to help! Reach out to us on discord!
Interested in more tips like the above? Check out this article on Best Practices using Dare Drop.
Say Hello
Drop into our discord and say hello. Reach out to an admin if you need support!

https://discord.gg/w293qT